Research & development
Based in our headquarters in Copenhagen, a large number of the INVISIO team members work daily to test and improve our tactical solutions. Our R&D department specializes in acoustics, electronics, mechanics and software, constantly pushing the limits of innovation within their technological areas to ensure INVISIO's market-leading position and cutting-edge solutions.
Sales & marketing
Our talented sales and marketing people ensure the successful promotional effort, including direct sales, distributions and development of the INVISIO presence and position in the market.
Sales is mainly driven through INVISIO's personnel based in Denmark, France, the US, England, Italy and Thailand, but also through distribution partners. In addition, the marketing department is based in Copenhagen and works across different functions to develop, support and execute product-related marketing activities, as well as being the primary driver of our online activities.
Product management
Product management is one of INVISIO's key processes. In product management, there is a distinct focus on working with the current INVISIO products and developing future products. Furthermore, in product management, our people are working to influence different aspects in the value chain, such as function, quality, user-friendliness and environmental impact – both in production and after the product has reached the end of its life cycle.
Support & admin
Last but certainly not least, we have several departments operating within support and administrative roles. In Support & admin, we have everything from HR, quality management, supply chain management, logistics, finance and many more - all with skilled, committed employees who contribute to developing INVISIO into a passionate, innovative, teamworking and customer-focused workplace.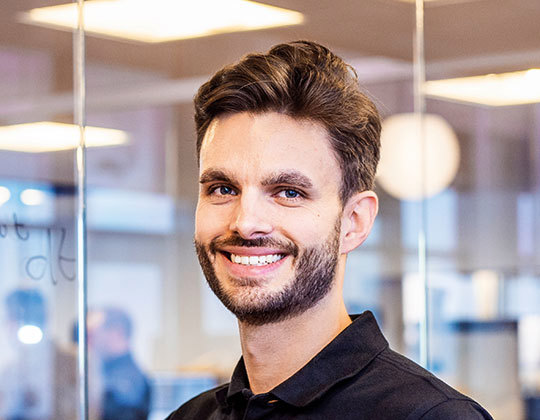 It is exciting to work in a company that does not hesitate to enter unexplored areas of technology and trust that the employees will get the work done.