Bryan Munana
Law Enforcement Market Segment Manager
I am responsible for the law enforcement and fire fighter markets in North America. My job, which can be quite challenging, is a bit like being the conductor of an orchestra. I must be familiar with every function in the organization and be able to cooperate with both colleagues and customers – at all levels and within all areas.
I coordinate everything, from new product development, training and competition analysis to marketing ideas and sales. I spend a lot of time networking with end users, distributors and industry partners.
How would you describe your workplace?
My career at INVISIO has been a dream come true. As a former police officer I can understand and appreciate our customers' needs and the risks they face. My work here allows me to give back to society by giving users the best possible solutions for their safety. I am surrounded by dedicated professionals and like-minded people. My job gives me the flexibility to travel and meet heroes from all over the country. The level of experience and expertise that INVISIO contributes is unrivaled in this industry, and even if we work remotely over large distances, I really see my team as an extended family.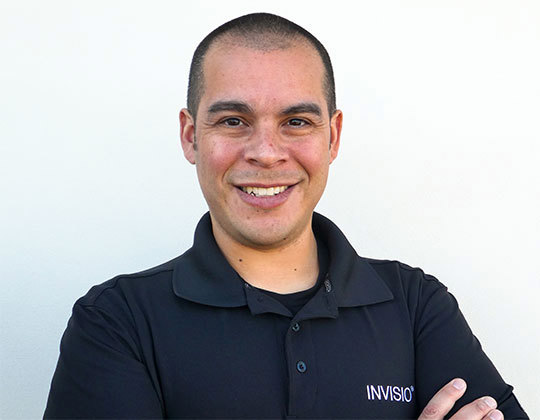 I understand the risks they face.
Mikkel Heber Hahn Wagner
Signal processing specialist
Artificial intelligence means a paradigm shift. Our new AI and software platform takes us to a higher level of sound quality and hearing protection. We have given a high level of commitment and time to training the AI algorithm to handle different languages, voices and sound environments – and also intense and rapid changes in the sound image.
The development team has succeeded in radically improving sound quality of speech and increasing the capability to filter out unwanted noise and provide better situational awareness. The result is almost 30 per cent better speech quality. One of the users who was involved in the development and testing phase related that his colleagues had never before perceived his speech as clearly. Not once did he have to repeat himself.
How would you describe your workplace?
Being able to work on and develop the latest software is a great privilege. It is exciting to work in a company that does not hesitate to enter unexplored areas of technology and trust that the employees will get the work done. This means both personal and professional development.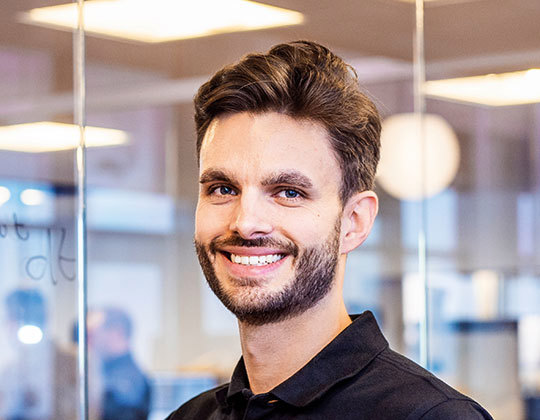 It is exciting to work in a company that does not hesitate to enter unexplored areas of technology and trust that the employees will get the work done.
Anita Nordhild Olsen
Director of Global Marketing
I am responsible for marketing INVISIO. I have always liked the challenge of communicating the value and benefits customers receive from our advanced solutions.
The challenge is double-sided: it is about understanding the solutions and the technology we supply – but even more importantly – about understanding the area of use and the actual needs of the customer.
And finally, as part of a growing company, there are the constant challenges of developing the organization, new systems and processes. However, I enjoy the pace and challenges – that's why I work here.
How would you describe your workplace?
The work here is characterized by freedom with responsibility. That is something I really appreciate. There is no unnecessary bureaucracy.
The focus lies on getting the job done, together with others as a team, and creating value for our customers and users. We are a relatively small but highly specialized company where we know each other, which creates a good atmosphere. It also feels meaningful to work with solutions that can save lives and protect people from life-long hearing loss.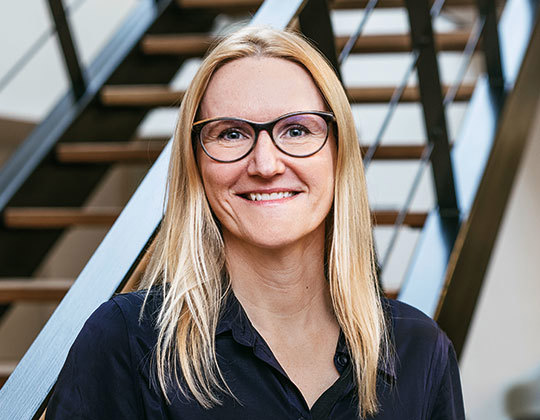 It is an honor to work for those who protect us.
Jesper Rye Bønnelykke
Senior Acoustics Engineer
I am a part of the product development team, focusing on acoustics. INVISIO's products must comply with many standards in both acoustics and sustainability, so each acoustic solution must be tailored to function under widely varying conditions. For example, it must cope with both high and rapid air pressure variations and also function under-water. Sometimes we face entirely new challenges and then we need to think along different lines. These professional challenges are something I really appreciate. It makes the work varied and means that no day is ever like another.
Describe INVISIO as a workplace
Our development team consists of a versatile group of technicians – from new graduates to highly experienced people. All in all, this creates a pleasant and enjoyable work environment. We cooperate well between different functions and trust each other. The atmosphere is extremely open-minded.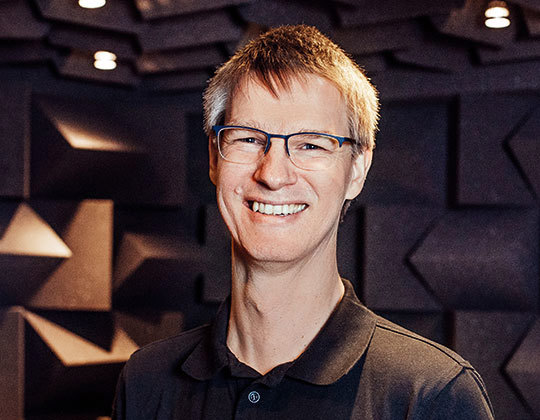 We work in an extremely open-minded atmosphere.